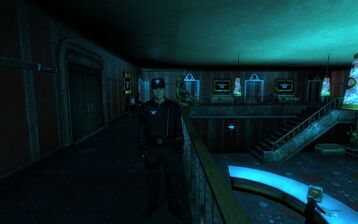 The Vegas embassy is the TSC embassy in New Vegas. It's located next to the NCR embassy on the Strip.
The reception area has a desk in the middle of it, where a TSC receptionist can direct visitors to the proper offices.  To the left (from the door) is a bar for embassy staff and visitors.  They serve beverages from across the TSC-controled territory.
The first floor, above the reception area, has three offices open to the public.  All questions are answered in the public diplomacy office.  Visitors can apply for TSC civilian citizenship in the consular office and take the Gnosis test for Science, Technical, Medical ares.  Visitors can enlist in the TSC military in the defense division office, with tests for aspiring Marines, Thunderfists, and Officers. 
The second floor is only accessible to TSC citizens.  It has a central lounge, a small restaurant, a boardroom, and two private offices.  The office in the back right corner, from the elevator, belongs to Consul Blair.  The office in the front right corner belongs to Economic Counselor Estrada.